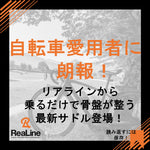 ~ Good news for bicycle users! Easy pelvic saddle
This time, the newReaLineIntroducing the items of!
Its name is "RealLine Saddle (ReaLine·saddle)"!
If you are a cyclist, riding a bicycle
Do you have any problems like this?
・ Bad posture or back pain
・There is a sense of discomfort around the pelvis when riding
- hip joint movement is not smooth
・ Originally, there is a problem around the back pain and pelvis
ReaLine・Just ride the saddle
The effect of trimming around the pelvis is expected!
The secret is the uneven structure of the seat!
This special structure becomes inside the pelvis
Improves gliding (movement) of small muscles
It improves the movement of the pelvis and hip joints.
again. So that the uneven structure maintains a so-called good posture
because it encourages
Bad posture and lower back pain when riding a bicycle
You can expect an effect on your worries!
More information and purchases are available from the official website.
If you are interested, please take a look ☺
Click here to purchase or rent RealLine products
https://glab.shop/collections/realine
[Column list]
https://glab.shop/blogs/columns