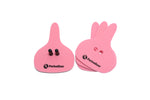 thank you always. We are GLAB Co., Ltd.
Regarding the price increase of the perinealizer, which I informed you the other day, it is very difficult at the current price due to the increase in the price of raw materials.
Therefore, we have decided to revise the prices of the following products.
Although the product price will be increased, we will continue to strive to provide products that satisfy our customers.
We appreciate your understanding.
■ Target product
Luty Pernelizer Pink
Luty Pernelizer Gray
 Product page:https://glab.shop/products/perinelizer
■ Price after revision
old price 11,000Yen (tax included)
new price 12,000Yen (tax included)
■ Timing of revision
August 1, 2022 at 0:00
*Orders at the current price will be accepted until July 31st.
We are now accepting reservations for the next shipment.
If all goes well, we will be able to start shipping sequentially from 8/10 (Wednesday).
Thank you for your kind support.
GLAB Co., Ltd.