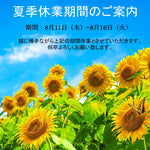 Without permission, as described below
We will be closed.
------------------------------------------------
Period: August 11th (Thursday) to August 16th (Tuesday)
------------------------------------------------
■Customers ordering products
For orders placed after 10:00 am on August 10 (Wednesday), shipping arrangements will be made from August 17 (Wednesday) after the holidays.
In addition, it is possible to accept orders from the official website even during the holiday period.
■ Shipment and return of rental products
We will also start shipping rental products and receiving returns from the 17th (Wednesday).
Please note that when you return the product, the continuous billing process will be completed after you receive it.
■Customers who have registered for seminars
Applications for seminars are available 24 hours a day, regardless of holidays.
■Customers making inquiries
Please note that we will not be able to respond to inquiries by e-mail, telephone, fax, etc. during the holiday period. Regarding e-mails, we will reply in order from the 17th (Wednesday) after the holiday period.
You can also contact us by phone from 9:00 am on the 17th (Wednesday).
We apologize for any inconvenience and thank you for your understanding.