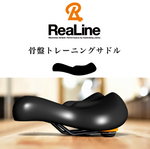 This time, MIRA * CLE LAB (Cycle Olympic Co., Ltd.) and ReaLine (GLAB Co., Ltd.) jointly developed a pelvic training saddle "ReaLine・Saddle" will be released from mid-September 2022.
■Product name:ReaLine·saddle
■ Sales price: 13,200 yen (tax included)
■ Product color: 2 colors, black and brown
■ Product reservation page: https://glab.shop/collections/product_all/products/saddle
ReaLine・The saddle is designed to lighten the movement of the pelvis and hip joints just by pedaling the bicycle. The three-dimensional seat fits the unevenness of the pelvic floor muscles, and while you are pedaling the bicycle, you can relax your muscles and improve your posture.
A day goes by in the blink of an eye for "child-rearing moms" who are busy working every day while balancing child-rearing and work. I want to be beautiful forever and take care of my figure, but I don't have time to go to the gym or chiropractor! It is a perfect product for such moms who can do "pelvic care while traveling".
Thank you for your kind support.
GLAB Co., Ltd.