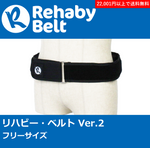 ▼Click here to purchase▼
https://glab.shop/collections/product_all/products/belt2
Recommended items for those who work with heavy luggage, postpartum mothers, and those who have back pain and pelvic problems,Rehaby·belt!
Newly refurbished and launched!
▼Improvement points▼
① The belt is elastic and the fit is improved (hard to slip off)
(2) For people with mild symptoms (conventional version has stronger fixing force)
③Overwhelming simplicity and ease of installation
Compared to Ver.1, the fixing force is weaker, but it has been improved especially in terms of ease of installation. again,Ver.1was purchased by selecting the size, but this timeVer.2Free size, so you don't have to worry about choosing a size!
▼Message from developer Kamata▼
Many pelvic belts are sold,Rehaby・The belt is a completely new pelvic belt.
If you tighten your pelvis too much with the existing belt, it will tighten your blood vessels and nerves. Also, I couldn't reliably compress the "sacroiliac joint" at the back of my pelvis.
For such issues,Rehaby・The belt can stabilize the pelvis without constricting blood vessels. This product is highly recommended for those who have concerns about their pelvis.
▼Click here to purchase▼
https://glab.shop/collections/product_all/products/belt2
again,Ver.1Those who wish to purchase can also purchase it, so please follow the procedure from the above site.
If you have any questions about the product, shop@realine.info
Please feel free to contact us.