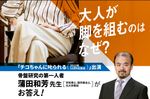 In "NHK Chico-chan will scold me (broadcast on December 9, 2022)"
Why do adults cross their legs?
I answered the question.
I couldn't talk enough on TV,
I made an interview video and a free Kindle book.
We have created an application form for a limited-time gift on the page below.
We hope that many people will be able to see it.
↓ Apply ↓