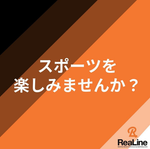 RealLine products are recommended for those who want to enjoy sports in the future, even in the sense of preventing injuries.
RealLine products are developed by Kazuyoshi Kamata, who is an active physical therapist and was in charge of treatment at the Olympic Village at the Tokyo Olympics, based on his own experience.
Therefore, the medical knowledge of treatment and prevention is packed!
▶︎ I was invited to join the futsal team by my company mates.
Will I be able to move like I did when I was a student?
First of all, I'm worried about injuries.
▶︎ I resumed the marathon for the first time in 10 years.
Somehow, my legs feel heavy.
Should I try using insoles?
Sports enthusiasts who enjoy sports within their own hobbies
Now is the time to be conscious of conditioning!
To enjoy sports, onceReaLineWould you like to consider our products?
We will introduce many products in the future.
Please check it out if you are interested!
RealLine supports people who enjoy all sports!
◎ReaLineClick here to purchase products
https://glab.shop/collections/realine
[Column list]
https://glab.shop/blogs/columns