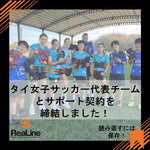 [We signed a support contract with the Thai women's national soccer team! ]

This time, with the Thai women's national football team (FA Thailand)
Athlete support has been signed!
Currently, FA Thailand is attracting worldwide attention,
At last year's Asian Cup,
She was the only Asian women's team to receive close coverage from FIFA.
This time, I was appointed as the physical coach of this FA Thailand
ReaLineFrom those who have been using
After receiving your proposal, we concluded a contract.
From that coach to the teamReaLineproducts and concepts
By introducing
Awareness of staff conditioning along with athletes
I hear that has changed.
It seems that he is practicing hard every day for the World Cup scheduled to be held in 2023!
Products that are specifically included
BalanceShoes、ReaLine・It is a core, an insole.
BalanceShoesWe prepare the ankle joints and knee joints in the field, rehabilitate and prevent sprains that often occur in soccer,
ReaLine・Using a corethorax, straighten the whole body from the waist
It seems that they are practicing easy-to-move snail construction.
In addition, we are working on preventing injuries by supporting the soles of the feet with insoles.
(Detailed product information can be viewed from past posts and the official website of the profile URL.)
Of course I will support the Japanese national team,
I'd love toReaLineIf you could also pay attention to the team that introduced the product,
I'm happy!
Spreading around the worldReaLineHow do you like the product? !
Click here to purchase RealLine products
https://glab.shop/collections/realine
[Column list]
https://glab.shop/blogs/columns