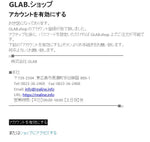 I apologize for causing concern regarding the topic.
Instructions for activating your account are emails sent by GLAB.
I have been using https://realine.info/ from the new site https://glab.shop/ This email will be sent when your account information is migrated to.

From now on, all orders will be placed on glab.shop, so we would appreciate it if you could click the "Activate your account" button in the email and set a password.
* Distributors can also order at the same discount rate as before.

Thank you for your kind support.