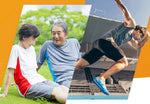 For users who have registered as an agency with Realine.info,GLAB.shopHowever, we will continue to apply the agency discount.
Please log in with the email address and password you used when you registered with the agency.
[If you forgot your password]
We will send you an email to reset your password.
Please follow the procedure from "Forgot Password" on the link below.
https://glab.shop/account/login
[Those who wish to register as a new agency]
ReaLine·core(TH/AND) and leg press are excluded,ReaLineDiscounted purchases are possible if you register in the agency framework.
Please check the following page for the requirements.
https://realine.org/system/distributor
*There is no annual membership fee for agencies.
→ For how to apply for agency registration, please apply from the membership application (agency registration) form in the "Enrollment/Withdrawal Procedures" section of the page.
If you have any questions shop@realine.info Please contact us.
Thank you for your kind support.