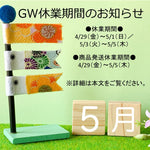 ◆◇◆◇◆◇◆◇◆◇◆◇◆◇◆◇◆◇
GWHoliday information
◆◇◆◇◆◇◆◇◆◇◆◇◆◇◆◇◆◇
We are sorry to inform you that we will be closed during the following period.
2022Year4moon29Day (gold・celebration)~5moon1day (day) /5moon3day (fire) ~5moon5Sunday (Thursday)
Customers ordering products
2022Year4moon28Sun (Thursday) morning10:00Orders received by this date will be shipped on the same day.10:00Orders after that will be after the holidays5moon6It will be shipped on Sunday (Friday), so please be careful if you are in a hurry.
Receiving luggage such as rental products
4moon28Sunday (Thursday)15:00from,5moon2day (month)15:00Rental products and other packages that arrive after this time will be received after the holidays.
During the period when you cannot receive the items, you cannot stop the continuous billing of the rental items, so please be careful when returning the items.
You can apply for the seminar even during the holidays.KOKOKARAPlease follow the procedure from the online site.
Inquiries by e-mail or telephone
We will not be able to respond during the holiday period, so
If you are in a hurry, please contact us on business days.16:00Please contact us by