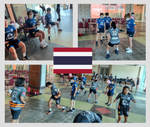 women's soccerThailand national teamaims to qualify for the 2023 World Cup.Naomi Eguchiis in charge of conditioning players as a fitness coach. From the beginning of his appointment last year, he signed a support contract between GLAB and the Thai national team.ReaLineis being utilized.
current situation
The Asian Games, one of the milestones of the previous year, was held in India in January and February, but the team suffered from a cluster of coronaviruses, and unfortunately missed out on the World Cup due to the lack of results.

The women's World Cup will be held in Australia and New Zealand next August. Thailand still has a chance to qualify for the intercontinental pre-offs in February next year, so the contracts of the three of us Japanese have been renewed to the World Cup at the longest.

I had almost no rest for eight months, and the competition in India was quite mentally exhausting, so I returned to Canada for about a month to refresh myself. Then, in early April, I returned to Thailand.
The representative camp starts in mid-April. This year's long-term camp will continue with the SEA Games (Southeast Asian Games) next month, the Southeast Asian Football Tournament in July, and the ASIAN Games in September.
In Thailand, corona regulations are still in place, and I wear a mask except when eating and practicing. April is the hottest month in Thailand, so it is very hot. (In Canada, masks are no longer required indoors since last month.)
ReaLineUtilization
Thai playersReaLineThere are many athletes who really like the device and actively use it during their free time during the day or before practice. We also incorporate it into the team's conditioning session, so at that time everyone is actively working on it.
When new players join the national team, they take care of them properly, such as teaching each other how to use them. Since I have a language barrier, I convey the details mainly through demonstrations and body touches while making rounds. As expected of an athlete, I am grateful that I am good at copying movements.
last yearReaLineAbout 3 months from November when you sent the device to the India expedition, during team practiceReaLineSince the introduction of , the players' movements have become less dangerous, and the number of accidents in contact play has decreased.I have the impression that my trunk is no longer shaky and my gluteal muscles are getting better.
I will continue to focus on coaching new players and players with a history.