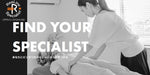 Get yourself back!
never give up! !
prolonged joint discomfort,
A figure that never returns after childbirth,
Limit your sports performance. . .
ReaLine・Specialists
A group of recovery specialists.
Eliminates the effects of joint distortion and adhesion,
Let us help you get back in shape.
A trained specialist
Please rely on me.
■ReaLine・Specialist TOP
■ Click here for a list of specialists