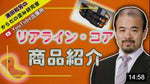 ReaLine・ Those who want to introduce the core newly and moreReaLine・ For those who want to deepen their understanding of the core, developer Kazuyoshi KamataYouTubeis explained.
We hope for your reference.
Kazuyoshi Kamata's "Body Distortion Laboratory"YouTubeAt the branch office, we regularly post videos.
↓ Please subscribe to the channel! ↓
https://www.youtube.com/c/GLABshop7392504/videos
◎ReaLineProduct introduction: Used in treatment clinicsReaLine・What is a core? What are the effects and usage?
◎ReaLine・Core Theory:ReaLineHow does the core work?
◎ReaLine・Core practice:ReaLine・Introduce specific ways to use the core and exercises