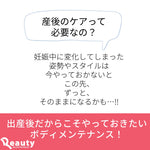 < do you need postpartum care? >
❝ Postpartum care ❞ has become a common word these days.
There seems to be a hospital where a doctor specializing in postpartum care will see you.
These hospitals are mainly hospitals that examine postpartum physical disorders,
Postpartum care that Reauty can provide
I lost it during pregnancy instead of improving my condition
"Beauty" care!
postpartum care is very important
If left unattended, it may become irreversible.
For example, posture that has changed during pregnancy.
It's easy to get into a hunched posture during pregnancy.
I think there are many women who don't like having bad posture.
If the distorted state continues while the posture is bad
This can lead to chronic pain such as stiff neck and headaches.
The same is true for the baby carrier, as it encourages a stooped back.
It is ideal to take care of them after you hold them!
Also, sagging buttocks and stomach.
Even though I worked hard, I wasn't able to use it much during pregnancy
Abdominal muscles and back muscles are not quite tight.
First of all, from awakening the functions that have fallen asleep
Need to get started!
Therefore, a doctor of science and a physical therapist who knows all about distortion
Kazuyoshi Kamata (@kazuyoshigamada)
So that you can take care of your posture and style at home even if your child is present.
We are developing new items!
We recommend "Reauty Roll"!
I'd like people who are worried about stooping to use it!
*Regarding Reauty Roll, I wrote in detail in the previous article.
Please take a look!
We plan to release many more items in the future!
You can also access various information from the links below.
♡ Click here to purchase Reauty products
https://glab.shop/collections/reauty
[Column list]
https://glab.shop/blogs/columns