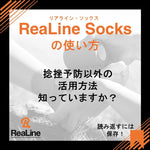 ReaLine・ Socks are effective in preventing sprains
As socks, it is used habitually by many athletes
In fact, there are effective ways to use it other than prevention!

Currently available on the official website (https://glab.shop/)
socks are
●ReaLine・Socks Pro
●ReaLine・Socks soft
●ReaLine・Socks soft long
There are three types of

Among these three types,
ReaLine・Socks soft
can also be used for first aid after a sprain!

As I mentioned in my previous post,
First aid after a sprain includes cooling, compression, etc.
Action is in effect.
Among them, compression is performed with elastic bandages (bandages) and taping at many sites, but the compression loosens with movement and time.

ReaLine・Socks software
Compared to professionals who do not have too much pressure and recommend using it during the competition
Made of soft material.
Therefore, the compression force is not too strong, making it ideal for compression after a sprain.

Immediately after the sprain, the swelling is strong, so it may be difficult to wear socks.
It is very effective when a large swelling subsides and still does not return to its original state. Even when starting rehabilitation, it gently supports the ankle without wrapping the taping.
By all means, not only sprain prevention
As an item that helps return to competition after a sprain
Would you like to keep one pair at hand?
Click here to purchase RealLine products
https://glab.shop/collections/realine
[Column list]
https://glab.shop/blogs/columns